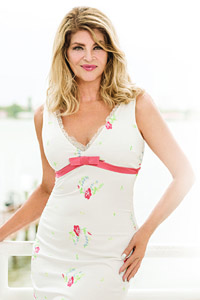 "Hi! I'm Kirstie Alley and I live part time in Florida. The mosquitoes here are terrible, and so I wanted a solution to get rid of these disgusting critters! I cam across Mosquito Magician and had them install a system in my house a few months ago.
I researched them well because it's super important to me and my family that we don't use any products that contain dangerous chemicals or hurt the environment. Well, they came through my scrutiny and I am truly impressed with their genuine green approach. But what's most important is that they GOT RID OF MY MOSQUITOES! I have a lovely yard and now I can actually use it and not get chased indoors by nasty mosquitoes! I would strongly recommend Mosquito Magician for anyone who wants to have a mosquito free yard, and who cares about their health and the environment."  – Actor, Kirstie Alley
---
"
I was very impressed and continue to be with Dan and F&S and how he has serviced and continues to service our accounts. His workmanship and performance as well as his worth ethics have been outstanding.
"
–Raymond Orsi Sr., President, JRB Construction, Inc., Davie, FL
---
"
We have used F&S Enterprises for over 5 years. When looking for a company to do irrigation repairs, F&S Enterprises, Inc. by far is the best in Miami. We highly recommend them.
" –
Mercedes Henderson, Property Manager, Crystal Lakes Villas Condominium Association, Inc., Miami, FL
---
"
We have been utilizing F&S for four years and our homeowner complaint rate has dropped from 41 calls per year for service to 1 call in 2012. I strongly recommend F&S.
"
–Ray Whittier, President, Emerald Springs HOA, Pembroke Pines, FL
---
"
I am pleased to provide a letter of recommendation for F&S Enterprises based on the fine work the company has provided to The Isles since 2005. One important factor in the excellent service we received from F&S is the consistency and professionalism of its staff.
"
–Margaret Shannon, Board President, The Isles Homeowners Association, Inc., Palm Beach Gardens, FL
---
"
It has been my privilege to hire and work with Dan Steuber. The attention to detail his company provides goes above and beyond. They have exceeded our expectations before and after jobs are completed. I would highly recommend F&S Irrigation to anyone with complete confidence.
"
–Susy Parsons, Director of Operations, Downtown at the Gardens, Palm Beach Gardens, FL
---
"
Our firm has had the pleasure of working with Dan Steuber and his staff at F&S to service the irrigation systems of our properties for well over 20 years. Our firm manages over 1.8 million s/f of real estate in South Florida and it is without hesitation that I recommend their service.
"
–Ralph Merrit, Jr., President, Commercial Property Group, Inc., Doral, FL
---
"
It is with great confidence that I put forward this recommendation of F&S Enterprises, Inc. and its president Dan Steuber. He is considered by my staff to be an important member of the team and is fully dedicated to meeting our needs.
"
–Rob Gresham, Operations Manager, ValleyCrest Landscape Maintenance, Palm Beach, FL
---
"
I would like to take this opportunity to thank you and your organization for their excellent and professional service providing for all of our irrigation needs. As a regular customer of yours for over 8 years, we completely trust your knowledgeable staff for handling our 20 commercial properties.
"
–Nelly Clavero, Assistant Property Manager, Dacar Management, LLC, Dania Beach, FL